Jurassic World: Dominion Dominates Fandom Wikis - The Loop
Play Sound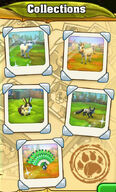 Collections is a feature added on the 16th of October, 2019. It can be accessed from the visitor center (collection button), so buying it is required to use collections. Players have to be at least level 17 to start collections.
The collector's album gives a reward for each completed set. The collections are divided in 3 pages depending on difficulty, from 1 star collections to 3 stars collections. To complete a set, players have to breed certain animals to reach a high enough animal level.
Note 1: the required level should be considered a minimum and not an absolute value (i.e. a level 3 chimpanzee is a valid animal to complete the silver fox set).
Note 2: the required animals have to be placed in enclosures, keeping them in inventory will not validate the set.
Note 3: the animal has to be the specific coat displayed. If a black and white rabbit is needed, a brown and white rabbit will not count towards it.

Here is a link to a spreadsheet with an overview of all the animals needed for collections, how many times and the max level needed: Collections Overview
1 star collections
[
]
| Collection | Image | Set to complete |
| --- | --- | --- |
| Silver Fox | | |
| Piebald Peafowl | | |
| Black & White Rabbit | | |
| Blonde Kodiak Bear | | |
| Brown Panda | | |
| White Crocodile | | |
| Pink Hippopotamus | | |
| Jaguar (Panther) | | |
2 stars collections
[
]
Collection
Image
Set to complete
White Moose

White Zebra

Speckled Alpaca

White Wild Dog

White-Nosed Coati

White Sulphur-Crested

Cockatoo

Summer Arctic Fox

Black Swan

White Mandarin Duck
3 stars collections
[
]
Collection
Image
Set to complete
White Reindeer

Level 2 Reindeer
Level 2 Snow Leopard
Ice Swan (decoration)
Beautiful Christmas Tree (decoration)
Nutcracker Sculpture (decoration)
Poinsettia (decoration)
Santa Sculpture (decoration)
Christmas Sleigh (decoration)
Snowman (decoration)

Tiger-Rabbit/

Harlequin Rabbit

Rabbit statue
Goat statue
Horse Statue
Sheep statue
Great Panda statue

Maned Wolf

White Gorilla

Black Gibbon

White Lion

White Tiger

Ermine

Maned Wolf 2

]
American Badger

American Badger 2

Douc

Spotted Kiwi

Douc 2

Amazonian Manatee